Brican Fabrications Ltd. is a family run business that has been trading now for over 30 years after being set up by Iain Mulholland back in 1983. We have established ourselves as a reliable and trustworthy business and the repeat customers that the business has are only testimony to that.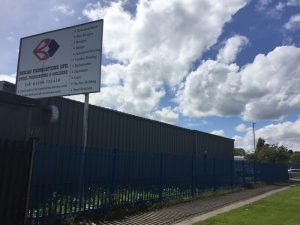 After building up the business and renting premises throughout its early life, we moved into our own premises in 1991 after deciding to build ourselves the workshop that we currently trade from today. With loyalty to our staff, we have had employees with the company for as long as 15-20 years, thus showing the kind of environment and ethos created here.
The company have undertaken contracts all over Scotland and England and have been involved in large projects spanning over months into years sometimes as well as day to day general fabrication works locally in the West of Scotland. The vast experience and knowledge allow for all types of fabrication work and on-site fitting.
We place quality and health and safety at the top of our priority list and as a result, have attained quality marks and qualifications to showcase this. We are qualified to carry out CE Marking jobs up to execution class 2, and also have ISO 9001, Safecontractor and Constructionline accreditation. To read more about these accreditations please click here.